Styling Dina has been the most fun! As we all know, Dina is definitely into channeling her inner boho chic goddess look but she is also willing to try almost anything….at least once.
In the After Party Video on Dina's website which you can see here, Dina, Lexi and I discuss the Rocker Chic trend and how it can be worn on women of all ages.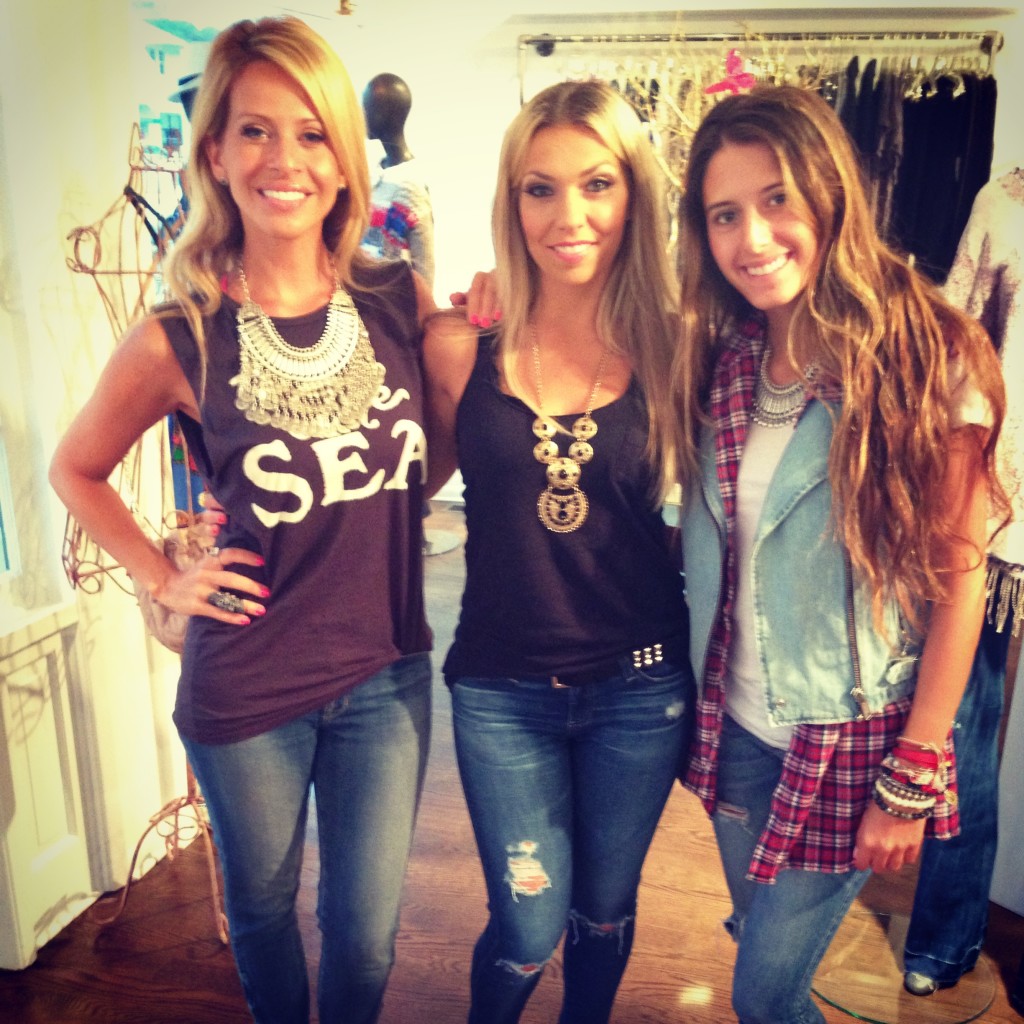 Lexi, the little style maven and founder of bohochicken.com, is seen here wearing a basic LNA tee but she funks it up by layering on a great flannel and Levi's jean vest; all about the layers.  Distressed denim, cute red espadrilles with rhinestone skulls and lots of arm swag pull this youthful rocker chic look together.
Dina paired a great graphic tee from 25 Park with an adorable neon pink bralette and skinny jeans.  As for accessories, a really fun tribal inspired silver necklace and a chunky knuckle ring really take this look from every day to rocker chic.  For shoes, Dina's metallic Jimmy Choo pumps are the perfect balance of conservative meets rock glam.
The lovely mannequin is wearing an outfit courtesy shopmaluka.com.  An adorable fringe Free People top; fringe also so on trend these days.  The longer sleeve on this top allows for more substantial coverage for those who may be a little more uncomfortable exposing their arms.  We paired this top with a great pair of wide leg Citizens of Humanity jeans and added in an amazing pendant necklace with a little skull on the end to pull the rocker chic look together.
And last, I wore a basic black tank and paired it with a pair of incredible AG distressed jeans (honestly, they are so amazing I almost never take them off!)  A cute suede ankle bootie youthens the look a bit and of course fun rock chic accessories and a pop of neon on the nails.
And there you have it, rocker chic for all ages!  Can't wait to see how you guys make this look your own! Tweet me @mgarciastyling and for more style tips check out my Instagram @melissagarciastyling.