What am I going to wear today?
It happens everyday, usually in the morning (or if it's one of the lazy days it happens into the afternoon).  You stand in front of your closet and ask yourself that same, dreaded question, "What am I going to wear today?".  If you are at all like me, you most likely have less than 3 minutes to figure out what you are going to wear before one of your kids starts fighting, calling for you to pull up YouTube so they can find the newest Rainbow Loom stitch or even better joining you in your closet.  But, in those 3 minutes of silence, a million things run through your head like, "I want to look cute today" and "I just wore those jeans yesterday, will someone notice?" or "That shirt still has tags on, maybe today is the day!".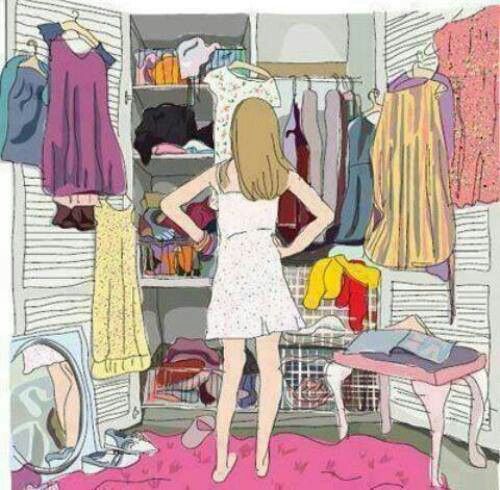 Maybe you were even lucky enough that this morning you had some extra time (a blessed 2 extra minutes for a grand total of 5 minutes to yourself) and you actually start trying on some options.  On and off they go, nothing is working.  The pile of clothes on your floor is getting bigger and bigger (all the options that just aren't working) and you are dreading coming home later to clean it up.  And just in the blink of an eye, your 3 (or heaven sent 5) minutes are up and you are standing half naked in front of your closet no closer to getting dressed than before you opened those closet doors!  The kids start fighting, the back packs need to be packed and you now have no time at all for yourself.  So, you throw on that same pair of jeans and shirt (your "uniform") put on some CC Cream and lip gloss and head out the door.
How come all the other moms look so cute and put together?
And then, it gets worse.  You go to pick up the kids from school or run out to get some errands done and you see all these women (most of them mommy's just like you) and they look so cute and "put together"!  And you start thinking to yourself, "how on earth does she have the time in the morning to get dressed and look put together?"
I have met so many women in your shoes and just like you they think there is no hope.  The good news is that there is hope and you CAN easily be one of those "cute and put together" women.  A good closet "sort" (doused with a bit of humor),  a "shop" from your personalized list of "must have's" which your wardrobe is lacking and a "style" session which includes your own personalized digital look-book of all the possible options in your wardrobe (so all you have to do is literally pull up the look-book on your phone while you stand in front of your closet and chose the outfit from your look-book that you want to wear that day; yes it's that easy) will solve all your getting dressed anxieties.
Someone help me please!!!
I promise, I have seen it happen time and time again.  No more standing in front of those closet doors anymore dreading what is behind them.  I am telling you, getting dressed each morning will be easy and fun.
Click here to read testimonials of women just like you who used my services and have come out on the other side and now LOVE getting dressed everyday!
To find out more about my Sort, Shop and Style click here!