Are you one of those people who absolutely dreads shopping for themselves?  The thought of going to the mall and dealing with all the crowds, scouring through the racks and walking aimlessly from store to store makes you insanely nauseous, right?!
It's overwhelming, trust me I get it!!  I have heard it time and time again from my clients. You look at all these other women and they look so cute and put together with all the right accessories.  So,  you go to the stores determined to get something "cute" for yourself but as soon as you walk in there are a gazillion racks overflowing with a thousand different options.  You feel so overwhelmed and the anxiety begins to rise and you feel it in your throat.  So, you either wind up buying the same jeans and shirts you already own in a different color or you leave empty handed.  It's beyond frustrating, discouraging and above all else you still have nothing cute to wear!
Well, let me tell you the simple solution to it all is my signature pre-shopping service.  You are going to LOVE this…I promise.  Imagine walking into the store, bypassing all the crazed shoppers and all the overwhelming racks overflowing with clothes and waltzing into a dressing room FILLED with clothes and accessories pre-selected specifically for you and your needs.   All your sizes, all the styles that flatter YOU and your body and all the trends to make YOU look cute will all be waiting  in your fabulously packed dressing room!  It 's that easy and that amazing!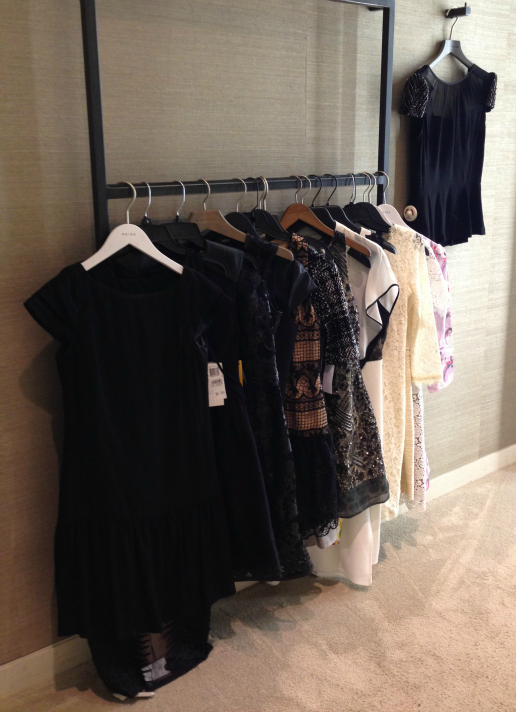 try it
Here is what one of my most recent clients had to say about pre-shopping, "I walked into a dressing room and felt like a princess!  All my clothes and accessories were displayed magnificently.  From my accessories being laid out on an amazing skirt to my jeans being folded in neat piles for me to examine, to my blouses and dresses all hung for display.  I honestly didn't know what to do I was so excited!  All I had to do was be the talent, stand there and try on."
Another recent client had this to say about pre-shopping, "So fun walking into a dressing room full of fabulous dresses pre-selected by you. Best experience…cannot wait to do it again this fall."
My pre-shopping service will save you time, money and your sanity!  No more stressing about going to the stores and finding those amazing pieces to make you look cute. No more wasting money purchasing the same clothes you have over and over.  No more wasting time wandering aimlessly through the stores and walking out empty handed.  Let me do the work for you and I promise you will never want to shop any other way again!!
Get started here…. http://mgarciastyle.com/services/ or if you would like a free phone consultation contact me here http://mgarciastyle.com/contact/.  I am so excited to work with you!